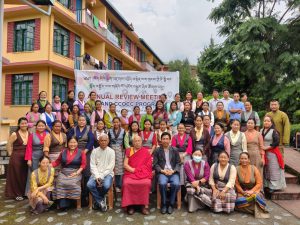 Dharamshala: The Department of Health, CTA commenced the 4 days annual review meeting for TB and CCOCC program at the administrative training center on 3rd Sept 2022.
The objective of the review meeting is to strengthen the existing programs through reviewing the ground-level implementation, challenges, and feedbacks from the health care providers. The whole session will be leading by the program consultant, Dr. Lobsang Tsering.
Additional secretary Mr Jampa Phuntsok was the chief guest at the opening session. Joint Secretary Mrs. Tenzin Kunsang addressed the participants and introduced the schedule and aims of each sessions.
After the opening session, Director of Library of Tibetan Work and Archives, Geshe Lhakdor la, spoke to the participants on "Buddhist perspective on health care and Mindfullness in general".
The review meeting is attended by 46 health care providers from various health facilities across Tibetan settlements in India and Nepal.