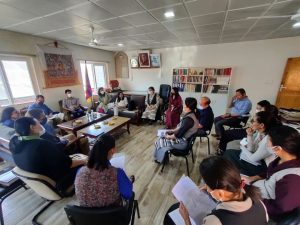 Dharamsala: A team of USAID delegates visited the Department of Health, CTA to monitor the USAID-funded projects. The USAID Delegation Members are Office Director, General Development Office, Mr. Mark Tegenfeldt, Deputy Office Director, General Development Office Dr. Poonam Smith-sreen, Development Assistance Specialist, General Development Office, Ms. Balaka Dey, Project Management Specialist, General Development Office, Ms. Radharani Thakuria.
The Additional Health Secretary, Mr. Jampa Phuntsok, and the senior management of the department received them. Upon arrival, the Project Coordinator Tenzin Tseyang gave a brief presentation on the USAID-funded projects undertaken by the Department. The delegates are briefed about each program by the respective program coordinators followed by Q&A sessions. At the end of the meeting, the Additional secretary gave the vote of thanks and presented them with a Tibetan memento. The schedule of their visit is from 21st – 25th March 2022 to meet with CTA officials and also to observe and monitor USAID Tibetan Self-Reliance Resilience (TSSR) funded projects.
On the sideline of their visit, they are visiting schools, settlements, and primary health centers in and around Dharamsala to monitor various USAID-supported activities. The delegation is visiting Bir Primary Health Center on the 23rd of March 2022.