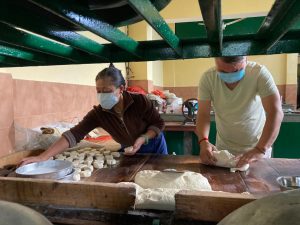 Dharamsala: Amidst the second wave of the COVID 19 pandemic, India which is home to about 17.7% of the world population has recorded the highest number of daily COVID-19 cases since the pandemic and has witnessed unprecedented loss of lives. The current situation is no different in the Tibetan settlements across India as there has been an increased number of daily COVID 19 cases, including the Dharamsala, which is the abode of H.H the 14th Dalailama.
The Department of health, CTA along with its network of Hospitals and Primary health centers have been committed to tackle and contain the spread of the virus since the outbreak from Wuhan. In order to stop the spread the Department has been facilitating From Testing, Treating, Tracking, Isolating, to the provision of necessities such as quarantine, isolation and food.
With the recent surge in cases at Dharamsala, the department has made necessary arrangements to control the spread like ramping up on testing and isolation of symptomatic cases as well as quarantining of contacts through initiation of prompt contact tracing.
Quarantine centre at ATWS, Dharamsala has been set up on 20th April, 2020 for recent travellers to isolate and monitor for symptoms. Till Date 1108 Tibetans have received the quarantine service at ATWS. In view of the recent huge spike of cases another isolation center at ATWS was opened in addition to the Isolation centre at Gambir Ganj. The director and Staff at the new isolation center at ATWS extended their wholehearted support in providing accommodation and care for those under isolation, today for example it was Sunday and they were supposedly off duty, however the staff of ATWS spared their holiday to prepare and serve food for isolated Tibetans under their care in the absence of cook.
We appreciate their active sacrifices and active engagement for serving on the frontline of this pandemic. Their gesture was commendable during such challenging times.
As of 2nd May ATWS has 50 COVID 19 cases under isolation and 36 Tibetans under quarantine.
The department urges all to join hands in stopping the spread of the virus, by wearing masks, Limiting contacts, avoiding crowds, and early reporting of Influenza like illness. Together WE CAN THRIVE.
Health Kalon concluded his address with appreciation to all the dedicated nurses, healthcare workers, and all the frontliners who are actively engaged in protecting our community and slowing the pace of the pandemic.