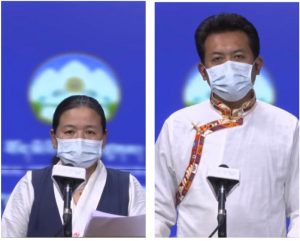 Dharamshala: Addressing the 89th Taskforce Briefing, sMenpa Tsering Tsamchoe updated the Covid status of the last seven days. As per the data received by the Department of Home (DoE), CTA, 23 new cases were reported, of which 19 are male, and four are female. The oldest among them is 74 years old, while the youngest is 11 years old.
In the last week, 101 Tibetans from India and Nepal were quarantined, constituting 42 home quarantine and 59 institutional quarantine. In the same duration, the task-force committee conducted a total of 342 tests of which, only two belonged to settlers of Nepal. Illustrating the vaccination records of the Tibetan community, sMenpa Tsamchoe mentioned 46,414 Tibetans in India had been fully vaccinated while 3,793 Tibetan received the first dose. At the same time, 6,980 Tibetans in Nepal are double-vaxxed, and 48 are partially inoculated.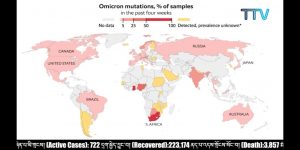 Up until now, 6,958 Tibetans in India and Nepal are reportedly infected by the Covid19; however, 6,745 have recovered while 162 have died, said sMenpa Tsamchoe. 51 Tibetans are still active, she added. Thus far, DoE and Men-tsee-khang disbursed 57,033 units of Sorig immune boosters collectively.
sMenpa Tsering Tsamchoe also elucidated the Omicron variant, which emerged from South Africa on November 24. It has been confirmed in more than 57 countries, including India. At the moment, 23 Indians are reported positive of the new variant. Hence, the Department of Health has conducted a digital workshop for heads and front liners to inform them about the Omicron variant. Seizing this occasion, she also urged to follow the protocols to prevail as peoples have done in the past during the plague epidemic of Europe as well as during the recent appearance of SARS.
Before concluding her remarks, sMenpa Tsamchoe compelled Tibetans to complete a covid test before returning to their settlements after wrapping up the winter markets to avoid infections.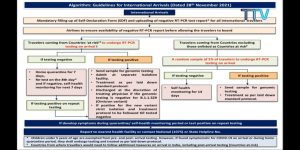 Following sMenpa Tsamchoe, Dr Tsundue specified the new guidelines introduced by the Government of India after the emergence of the new variant, which he said is assumed more likely to be transmitted easier than the previous variants. International visitors to India require RTPCR reports within 24 hours before departing from their country. Moreover, after entering India, visitors are asked to stay in quarantine except for the flagged countries, visitors of which need to test after a week from their entrance. If tested positive, the visitor will also be tested for the Omicron variant.
Dr Tsundue exhorted Tibetans to avoid travelling as far as possible because of the crowds at stations possibly carrying the virus. He also reminded parents and teens to prepare the documents required for inoculation before announcing the prospect vaccination for previously ineligible below-eighteens to dodge the familiar problems faced by the senior citizens in the community.