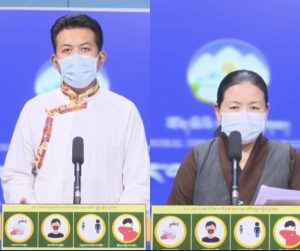 Dharamshala: Addressing the 87th Central Taskforce briefing on covid 19, sMenpa Tsering Tsamchoe updated the current situation of the Covid-19 pandemic and the vaccination status of the Tibetan community in India and Nepal.
Reporting the weekly data collected by the committee, sMenpa Tsamchoe informed that 689 Tibetans in India were tested for covid this week and out of the number, 37 were declared positive. The oldest among them was a 91 year old while the youngest was a 4 year old. A 75 year old with complications of high blood pressure succumbed to covid this week. This brings the total number of cases reported in the Tibetan community across India and Nepal at 6896. The recovered number stand at 6663, the death count at 159 and 74 active cases.
As for the vaccine status of Tibetans in India, around 46,052 Tibetans are reported to have received the complete doses while only 4147 have received only the first shot. In Nepal, 6980 Tibetans are said to be completely vaccinated while only 48 are partially vaccinated.
Considering the incredible benefits of vaccine as claimed by experts, sMenpa Tsamchoe requested 100% participation of Tibetans in the ongoing vaccination drive. Additional care and precautions were also advised amid the changing season and moreover, the upcoming festive celebrations of thanksgiving and Christmas.
Dr Tsundue reported that daily positivity rate in India stand at 0.79% whereas the weekly positivity rate is at 0.90%.
He mentioned that around 9119 people in India were tested positive in the last 24 hours. And even though India's covid situation has radically improved, he warned against ignorance and relaxed behavior toward covid appropriate measures prompting that such could potentially worsen the now stable situation. In addition, he also remarked that majority of the cases reported so far are those of unvaccinated individuals, and urged them to get the shot at the earliest to keep the spread of virus at bay.
Source : Original post