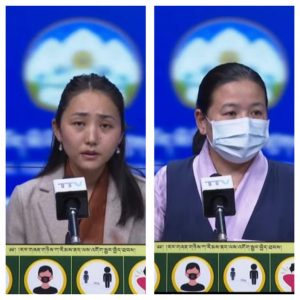 Dharamshala: Addressing the 86th Taskforce Briefing, sMenpa Tsering Tsamchoe updated the Covid status of the past seven days mentioning 44 new cases, amongst which 17 are male and the rest female. In the reports of the last seven days, the oldest infected person was 91 years old, while the youngest was just a year-old infant. One death from Covid has also been reported in the last week.
According to the data received by the Health Department, 64 patients are in-home quarantine, and 128 patients are under institutional quarantine, making the total number of quarantined 192. Ten Tibetans have received mental health counselling during the same week. The number of Covid tests conducted by the Taskforce is 706. Thus far, the total inoculated Tibetans in India stands at 45,801 from which, 4,582 are yet to receive the second jab. As for Nepal, 6,980 Tibetans were completely vaccinated, and 48 Tibetans were partially vaccinated.
sMenpa Tsering Tsamchoe elucidated the Covid status of the Tibetan community in India and Nepal, mentioning 6859 infected cases so far, from which 6623 have recovered and 78 still active. Thus far, the contagious virus has claimed 158 lives in Tibetan communities across India and Nepal.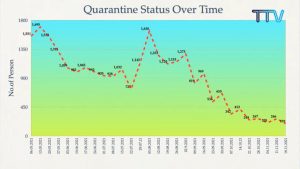 Following sMenpa Tsamchoe, Dr Tenzin Namdol from Tibetan Delek Hospital informed about the decline in covid cases across the globe. However, the numbers in some countries are still rising because of negligence in abiding by Covid protocols. She also underlined the significance of vaccination to prevent further escalations.
Dr Tenzin Namdol emphasized wearing a mask, maintaining social distance and constant sanitizing in schools amidst the reopening of primary and secondary schools in India. Teachers and guardians are reminded to take charge of students by regularly enquiring the students. Before closing the briefing, teachers are also advised to distance themselves from gatherings and crowds.