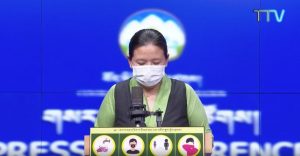 Dharamshala: The weekly mass testing of Covid has covered 1174 Tibetans living across India and Nepal. Of the tested individuals, Dr Tsamchoe reported 36 new cases consisting of 13 males and 23 females, and the eldest among them is aged 83 while the youngest being 2 years old.
As per the data received by the committee, the total number of reported cases so far in the exile Tibetan community is 6310, with 6105 recoveries, 150 deaths and 55 active cases.
The quarantine status of Tibetans stands at 969, of those 504 are in-home quarantine and 465 in institutional quarantine.
Thus far, CTA in coordination with Men Tsee Khang has disbursed immune boosters worth 51,998 units for free to the public, particularly vulnerable groups including those aged 17 and below amount to 13, 312.
The mass vaccination drive has so far successfully inoculated 33,206 Tibetans in India who are fully vaccinated and 17,046 who received the first dose bringing the vaccination rate to 92.14%. In Nepal, 3191 Tibetans have been fully vaccinated and 533 Tibetans administered their first dose bringing the vaccination rate to 45.59% of the eligible population.
The global tally stands at 225 million cases led by the US. In India, 33 million cases were recorded, notably, 30,570 new cases were recorded in the past 24 hours crossing 3.42 lakhs active cases, with a daily rise of 30,000-40,000 cases. Considering the daily surge of cases in India, Dr Tsamchoe advised utmost precautions and reiterated immediate treatments. From a Sorig perspective, she advised maintaining a well-balanced diet and taking care of mental health. As seasonal flu is in force due to the weather changes, she advised following strict precautionary measures.
Dr Namdon of Delek hospital advised against mix-matching the vaccine and urged people to get both doses from the same manufacturer. Meanwhile, she clarified that pregnant and menstruating women can get no side effects from the vaccination.