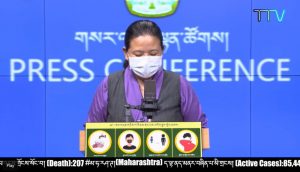 Dharamshala: The 70th Covid-19 Task Force briefing issued renewed appeals for preventive measures, particularly, public participation in the mass vaccination drive as new variants of the COVID-19 surface globally.
Following the weekly mass testing of 708 people across India and Nepal, the exile Tibetan community in India has reported 178 new cases and they are gender-wise: 90 males and 88 females, age-wise: the eldest is 97 years old while the youngest is aged 3 years old. A total of 3 deaths were reported this week.
Globally, the pandemic tally has surpassed 195 million cases, while in India, 43,509 cases and 643 deaths were recorded in the past 24 hours. Similarly, the recovery rate is at 97.39% and the mortality rate is at 1.34 %. In south India particularly Kerala, where the exile Tibetan population are largely concentrated, has seen a spurt in cases registering 22,000 cases in the past 24 hours alone.
CTA taskforce committee which assesses the pandemic situation of exile Tibetans across India, Nepal and Bhutan summarises the weekly pandemic data as follows: 597 are at home quarantine, 548 at institutional quarantine this week.
The Tibetan administration prioritising the elderly over-65, front liners and those with comorbidities, has now included coverage of over 18 with a total of 40,945 units of Sorig immune boosters dispensed.
The mental health section has reached out to 92 people via its tele counselling helpline.
Under the pan-India vaccination, drive launched January 16, the CTA Taskforce committee and settlement emergency committee has availed the assistance of state and district authorities ensuring the vaccine coverage of the exile Tibetan community. So far, 20,701, are fully vaccinated and 28,982 received the 1st dose.
Similarly, in Nepal, under the leadership of the regional Office of Tibet and local NGOs vaccinated 1012 of those above 18 with Johnson & Johnson 1-dose vaccine covering 12.39% of the community and the 1st dose of Covishield has been administered to 1058 people amounting to 12.95% coverage thus far.
Amchi Tsamchoe reiterated medical advisory against smoking among the youth in the pandemic circumstances citing the medical evidences. She stressed for preventive measures and appealed for public cooperation in undergoing mass testing, particularly, in the larger institutions. Travelers were directed to get RTPCR over other tests for accuracy and adhere to the quarantine norms.
Dr Namdon noting the jump in reported mental health issues and substance abuse in the prevailing situation, advised against constant news media consumption and emphasized physical activity and regular health check-ups.