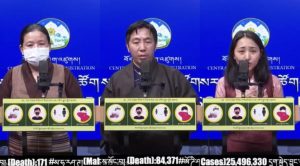 Dharamshala: Continued precautions were urged at the 60th Covid briefing today. Additional Secretary Jampa Phuntsok of Health Department appealed the public especially the ones inoculated to continue taking all the necessary precautions and not throw caution to the wind citing that no vaccinated individual is completely immune to contracting the covid infection.
Similarly, those recovered from infection are specifically advised not to let their guard down as cases of reinfected have been reported if not many. Even though the virus provide some extent of immunity the first time a person is infected, however, it may not prevent the person from getting the infection for the second time. Moreover, the recovered person can still be a carrier and be high–risk to others.
"Until we have not completely eradicated covid virus, we must continue to adhere by the covid safety measures", added Additional Secretary Jampa Phuntsok.
In addition, he urged the Tibetans to come forward and get themselves tested in case of feeling unwell or experiencing mild to moderate symptoms.
"Our efforts should be mobilised to end the pandemic and completely eradicate the virus", said Additional Sec. Jampa Phuntsok and meanwhile alerted people against covid stigma.
While India embraces nationwide lockdown in bit to contain the spiralling cases through nationwide lockdown, the frontliners are however working overtime fighting the battle against Covid–19 just to ensure the safety of the people while putting their own lives at risk.
In that light, he offered special tribute to the frontline warriors for their selfless determination and sacrifices in this time of crisis. He also commended the valuable services prompted by individuals and organisations to the needy.
As for the weekly covid-status of the exile Tibetan community, Dr Tsering Tsamchoe updated that mass testing drive this week covered 2453 Tibetans in India and Nepal. Of those tested, Dr Tsamchoe reported 636 new cases and 18 deaths. With this, the total number of reported cases of the exile Tibetan community is 4013, 2388 recoveries,101 deaths, and 1524 active cases.
Since the inception of the nationwide vaccination drive in India, around 16699 Tibetans have vaccinated and more Tibetans if eligible are appealed to get themselves tested.
Addressing the vaccination-related information, Dr Tenzin Namdon said the covid patients must wait for 3 months after recovery to get their jabs as per the new advisory of the Health Ministry. The waiting period of 3 months is also recommended to those patients who had received their first shot and those patients who have received antibody treatment or plasma therapy.
In addition, individuals willing to make blood donation and those opting to get other vaccines are also advised to wait for 2–3 weeks gap after vaccination before proceeding to make donations. Similarly, concerns regarding vaccination to lactating women and whether the said vaccine will impact the health of women have been debated many times and finally, pregnant and lactating women can now avail the vaccine during ante-natal checkups.