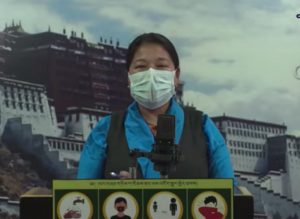 Dharamshala: Addressing the 52nd COVID-19 briefing, Dr Tsamchoe updated the weekly COVID-status of the exile Tibetan community, reporting 66 new cases. The oldest among them is 85 and the youngest is 6 years old, symptomwise: 29 symptomatic and 37 asymptomatic.
The total reported cases of COVID-19 of the exile Tibetan community stand at 1691, of which 1565 have recovered, while 79 active cases and 47 deaths, including 2 elderlies suffering from comorbidities who died last week.
Dr Tsundue briefed concerning new mutations and the three types of Covid strains reported in India, cautioning for safety amidst the renewed surge of cases.
He reported that so far testing of students ahead of school reopening has not revealed any positive cases.
Dr Tsundue also told that Delek hospital is making provisions for a free vaccination to elderlies aged 60 and above, and directed people to register for the vaccine ahead of the jab.
Health Department's Deputy Secretary Kunsang issued an advisory directing those eligible to register for COVID-19 vaccination via the Arogya Setu app as per the GOI's 3rd phase of vaccination which begins from 1 April and in case of difficulty, seek the help of healthcare workers or settlement office.
She also advised those who disregard positive COVID-diagnosis in asymptomatic cases to accept scientific evidence. She further said that neglecting proper medical care could cause chronic lung problems in the long run. Similarly, strict precautions are urged at the vaccine centres which are potentially risky as many people arrive at these sites.
Dr Tsamchoe urged the public not to panic regarding vaccine accessibility as provisions are being made to cover everyone and further informed people to follow the proper gap of 4-8 weeks between the two doses for efficacy. She also emphasised the need for sustained precautionary measures as key to prevention.
As per the weekly quarantine status, a total of 291 Tibetans are under quarantine, of which 212 are at home quarantine and 79 at institutional quarantine.
Sorig Immune boosters totalling 28,066 units have been distributed so far.
The mental health committee provided counselling services to 1 individual in the last week.
The mass testing initiative has covered 1155 Tibetans last week.
Likewise, the vaccination drive has covered 7661 Tibetans including frontline workers, elderlies and those with comorbidities.
The global pandemic tally stands at 123 million cases, with the US leading with 29 million cases, followed by Brazil with 12 million cases and India crossing 11 million cases as per the latest data. In India, cases are mounting across the states of Punjab, Maharashtra, Chhattisgarh and Karnataka. In particular, Himachal Pradesh witnessed a fresh wave of cases compelling state and district authorities to accordingly issue new guidelines.