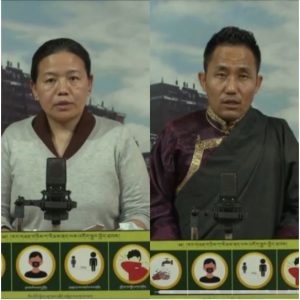 Dharamshala: Addressing the 51st COVID-19 taskforce briefing, Dr. Tsamchoe updated the pandemic status of the exile Tibetan community, reporting 13 new cases.The new cases reported are from the region-wise: 3 from Bylakuppe, 5 from Clementown, 1 from Ladakh, 1 from Miao, 2 from Mundgod, and 1 from Shimla. The oldest among them is 81 yrs old and the youngest is 24 yrs old.
Two deaths reported from Bylakuppe this week related to covid-19. One 83 yrs old man and 81 yrs old succumbed to the infection this week. This brings the total number of cases in the Tibetan community across and India and Nepal to 1625, out of which, 1549 have recovered, 31 active cases, and 45 deaths.
As per the response committee's data, a total of 681 Tibetans including health care workers and volunteers have participated in the phase 1 vaccine drive. As for the second phase of covid vaccine, 6607 elderlies including those above 60 yrs and, and people with co-morbidities above 45 years have received the shot bringing the total vaccinated number to 7281 Tibetans in India.
As for the quarantine status, Dr Tsering Tsamchoe said 262 Tibetans are in quarantine out of which 146 are home quarantined and 116 at the institutional quarantine.
Sorig immune boosters have been distributed to a total of 7856 people who were and are still in quarantine. In addition to that, sorig medicines have been distributed to a total of 9816 people above 65 yrs of age, 1481 frontliners, 4667 people with comorbidities, and around 3731 Tibetans settled abroad. In total 27551 sorig boosters have been distributed till now.
The mental health committee provided tele-counselling services to 2 covid patients this week. The committee also conducted a workshop on mental health for the Settlement officers, volunteers, and health care workers.
Mass COVID-testing drive covered 719 Tibetans in India this week.
Nyima Gyaltsen from the Department of Health appealed to the public to strictly abide by the vaccine eligibility guidelines proposed by the GOI as he addressed cases of some ineligible people in the community barging in the line during the COVID-19 vaccine and preventing the eligible ones from getting the timely shot. Explaining the details for vaccine registration, Mr Gyaltsen added that those eligible for the vaccine are required to fill-up the form from a registered medical practitioner and the form must be submitted along with a copy of ID proof during the vaccination. As for the distribution and cost of the vaccines, he clarified that both government and private hospitals are administering the distribution while the government hospitals are distributing the vaccines free of cost, the private health facilities are charging Rs 250 which may differ in different states.
Addressing the surging cases in India in recent weeks, Health staff Gyaltsen insisted those eligible for the vaccine take part in the vaccine drive without a doubt and appealed to people against the negligence of wearing face masks.