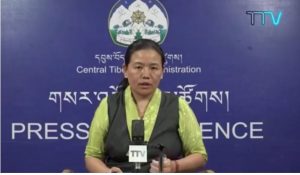 Dharamshala: With the spurt of Covid-19 infections across India, particularly of new variants, the Covid-19 Taskforce has urged new precautions for the Tibetan community. India's tally of infections, which stands at 11.04 million, swelled in the past 24 hours by 16,738 new cases, according to data released by the Union Health Ministry.
Addressing the 48th COVID-19 Task Force briefing, Dr Tsamchoe said 10 new cases were reported from the Tibetan community in the past week, with 5 from Mundgod, 2 from Bylakuppe and 1 each from Mainpat, Pondoh and Dharamshala. The oldest is aged 90 and the youngest is 15; 6 are asymptomatic while 4 are symptomatic. No death has been reported.
The total number of reported COVID cases of the exile Tibetan community stand at 1540, of which 1480 have recovered, 41 deceased and 19 active cases.
Reviewing CTA's response, she reported the weekly quarantine status sharing that 293 people are in quarantine of which 141 are in home quarantine and 151 in institutional quarantine.
SORIG immune booster provision initiated in March last year were distributed to the COVID-positive, close contacts and quarantine residents this week totalling 26,649 units.
The mental health committee reached out to 9 people via tele-counseling and held virtual mental health workshops for frontline workers on Sorig guidance and vaccination-related information.
The mass testing drive covered 810 people from around 15 settlements as of this week.
The vaccination programme covered 48 people from Dharamshala and 12 healthcare workers from Mainpat with 406 frontline workers vaccinated currently.
Under the Home Department's guidance, Settlement Officers meet with the local government authorities and appeal for equal assistance to the Tibetan community, in addition to informing travellers about the COVID- guidelines, overseeing accommodation needs at the quarantine centre and as part of settlement committee review and act on the latest updates and guidelines issued by government.
The global pandemic tally has crossed 111 millions of which 2 million are deceased. The US continues to be the global hotspot with the highest number of cases and death toll surpassed half a million leading the US government to declare the pandemic the worst health crisis of the century and observe national mourning this week.