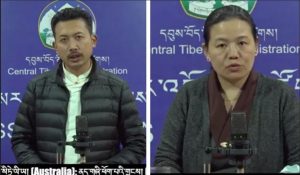 Dharamshala: Addressing the 47th COVID-19 taskforce briefing, Dr Tsamchoe updated the pandemic status of the exile Tibetan community, reporting 4 cases this week. They are from region wise: 1 from Clemetown, 1 from Rajpur, and 2 from Mundgod. Among them, the oldest is 73 yr-old and the youngest is 11 yr-old, according to symptom wise, 2 are symptomatic and 2 are asymptomatic. No death reported this week. This brings the total cases in the Tibetan community across India and Nepal at 1530, out of which, 1458 have recovered, 41 deaths, and 31 active cases.
As for the quarantine status,184 Tibetans are in quarantine out of which 148 are home quarantined and 36 in institutional quarantine.
SORIG immune boosters have been distributed free of cost to a total of 25,094 people till now. The mental health committee provided tele-counselling services to 4 covid patients this week.
Mass COVID-testing drive covered 407 people in India and Nepal this week.
According to Dr Tsamchoe, a total of 226 Tibetans including health care workers have received the vaccine this week. So far, a total of around 346 Tibetans has received the shot.
Dr Tsundue clarified the eligibility criteria of the covid vaccines and informed that those prone to experience an anaphylactic reaction, a form of a severe allergic reaction are advised against getting the shot. Secondly, pregnant and breastfeeding women are advised against receiving shot given the lack of research done in such a situation. Thirdly, recovered patients and patients with comorbidities can opt to receive the shot. Meanwhile, Dr Tsundue advised caution to those with platelets and coagulation disorder in case they opt for the shot. He also advised those with a high-risk medical condition to first improve immune response before opting for the shot.
Last week, around 10 health care workers have received the second round of covid vaccine and according to Dr Tsundue, none of them reported any side effects. He urged more people to come forward to participate in the vaccine drive in order to curb the spread of the virus.
Despite the dramatic decline of cases in India, Dr Tsundue appealed to people extreme caution as the emergent of new variants could be a major cause of concern.