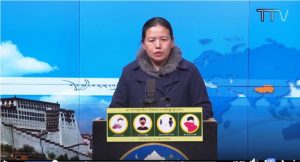 Dharamshala: Addressing the 45th COVID-19 taskforce briefing, Dr Tsamchoe updated the pandemic status of the exile Tibetan community, reporting 24 cases this week. They are region-wise: 2 from Clement town, 4 from Dekyiling, 15 from Dharamsala, 1 from Mainpat and 2 from Mundgod, out of which 15 are men and 9 women, the oldest is aged 96 and the youngest is 16, and according to symptoms, 15 are asymptomatic and 9 symptomatic. This week, 3 Tibetans died of complications from the disease, aged between 78 to 83 years old suffering from comorbidities.
This brings the total number of reported cases in exile Tibetan community at 1519, out of which 1449 have recovered, 41 are dead and 29 active cases.
One year since the pandemic outbreak, the global COVID tally stands at 103 million, led by the USA with 26 million cases, India trailing behind with 10 million cases and 1.55 lakh active cases.
Dr Tsamchoe updated the quarantine status for this week which is at 432, of which 253 are in-home quarantine and 179 in institutional quarantine.
SORIG immune boosters have been distributed free of cost to 24,897 people. The mental health committee provided tele-counselling services to 2 COVID-positive patients this week.
Mass COVID-testing drive covered 632 people in India and 5 in Nepal this week.
The nationwide-vaccination drive initiated on January 16 in India covered 196 Tibetan healthcare workers.
Dr Tsamchoe informed that India's vaccination drive has covered 44 lakh people, 3 lakh people vaccinated a day, making it one of the most vaccinated countries. Across the US as well as India, the data of people who have shown side-effects are a small number of the total population and none of those are severe in nature.
On the occasion of the World Cancer Day, she pointed out that cancer is the top cause of non-communicable death, particularly lung and prostate cancer among men and breast and cervical cancer among women. She advised dietary and behavioral guidance from Tibetan Sowarigpa tradition. She also advised the need for biannual physical check ups to assess health.
Dr Tsundue shared that in accordance with the nation-wide vaccination drive, 75 healthcare workers out of which 31 are Tibetans received the 1st round of vaccine at Delek hospital. Similarly, another batch of 38 healthcare workers including 4 Tibetans were administered the vaccine so far today at the hospital.
He also issued a public appeal against circulation of unverified information via social media and instead urged following official websites like the WHO, GOI's Ministry of Health and Family Welfare(MHFW) and the US' Centre for Disease Control for useful information.
He also stressed on keeping up with the necessary precautions particularly during Losar celebration.