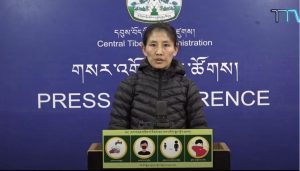 Dharamshala: The first phase of pan-India immunization drive initiated on 16 January on the basis of priority to healthcare and frontline workers was successfully initiated in the Tibetan community, Joint Secretary Tsering Youdon of the Department of Health, CTA said on Thursday with 10 Delek hospital staff, 81 branch health centre staff and from monasteries in Mundgod and 10 branch health centre staff from Miao given the vaccination shot. None have reported any side effects.
CTA Health department's virtual discussions with the Chief Representative Officer and Settlement Officers on the vaccination drive has revealed that the respective state governments are making provisions for Tibetan residents on par with Indian citizens.
Joint Sec assured that the Department would further coordinate with the government authorities for the successful implementation, adding that the choice to get vaccinated would be left up to the individual.
With Losar or Tibetan New Year approaching next month, she appealed Tibetans to refrain from travelling, however, if absolutely necessary, they are urged to ascertain the situation and requirements set by the settlement COVID-committee and fully cooperate in ensuring community safety.
Dr Tsering Tsamchoe of Central Council of Tibetan Medicine explained that the government has not made vaccination mandatory, leaving it up to individual decision. She informed that a precautionary guidance relating to the vaccination has been issued and further queries can be clarified by the branch healthcentre staff and those concerned.
She particularly stressed that "even as a vaccines are releasing, precautionary measures must be followed without fail".
Addressing concerns of side effects of the vaccine, Dr Tsundue said minor side effects could persist for 2 days and would show up in the first- half an hour immediately after vaccination which will be monitored by the staff on the site.
He assured that these side-effects are harmless in the majority of cases. However, he highlighted specific groups identified by the GOI for potential adverse effects, such as, those who display allergic reactions to the vaccine, fever, suffering from bleeding disorder and taking medications for the same, as well as, pregnant and nursing mothers.
As per the Thursday briefing, 11 new cases of COVID-19 were reported this week in Tibetan community.
Region-wise include 4 from Dekyiling, 2 from Dharamsala, 1 from Mainpat, 3 from Pandoh and 1 from Shillong; age-wise: the oldest is 86 and the youngest is 38; gender-wise: 5 males and 6 females; symptom-wise: 7 symptomatic and 4 asymptomatic. In good news, there have been no deaths reported in the past 2-3 weeks from COVID in our community, bringing the total tally to 1490 cases, 1430 recoveries, 37 deaths and 23 active cases.
Reviewing CTA's pandemic response, she shared that 395 people are in quarantine, of which 239 are in home quarantine and 156 are in community quarantine centres. SORIG immune boosters have been distributed to 24,841 people at free cost, primarily to quarantine residents, comorbid patients, frontline workers and healthcare providers, Tibetan healthcare workers based abroad and elderly aged above 65. Mental health section has arranged spiritual teachings, in addition to training sessions for healthcare workers and as of the past week, 1 COVID- patient was contacted who received counseling and guidance. The ongoing testing drive has covered 656 Tibetans in India and 5 in Nepal. Settlement emergency committee holds routine meetings to discuss issues as per the directive of the state and district governments.
Globally, the pandemic count has reached 94 million, among which US is leading with 23 million, followed by India crossing 10 million, with a remarkable recovery rate of 96.8% and death rate of 1.44%.