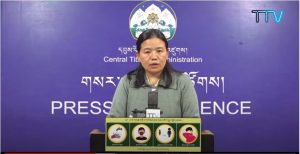 Dharamshala: Addressing the 35th COVID-19 press briefing, Dr Tsamchoe reported on 44 new cases in the Tibetan community in India and Nepal over the past week. Of the total new cases, 36 cases are reported from India while 8 from Nepal.
Dr Tsamchoe said that the highest cases are reported from Mainpat with 14 cases followed by 5 from Delhi, 4 from Ladakh, 3 from Odisha, 2 each from Rajpur and Kollegal, and 1 each from Mundgod, Bhandara, Bylakuppe, Clementown, Lakhanwala, and Dehradun. Out of the total new cases, 21 are reported to be symptomatic and the rest are asymptomatic. The eldest amongst them is aged 87 and the youngest is aged 7. However, this week, a 67-yr-old woman from Ladakh and 31 yr-old man from Bylakuppe passed away.
According to the data collected by the committee, the overall cases in the Tibetan community across India and Nepal stand at 1274 of which 158 are active cases while1085 people have recuperated. However, 34 people have died so far from COVID.
Alerting the rising cases reported in Himachal Pradesh with the upliftment of travel restrictions and the influx of tourists, Dr Tsundue advised the people to strictly avoid traveling unless necessary and moreover to prohibit the gathering of any kind. He reported that the positivity rate in Himachal Pradesh has outnumbered other states indicating a serious situation for the general public in Himachal and thus advised people to faithfully adhere to the new night curfew guideline imposed by the state government.
Dr. Tsamchoe reiterated her guidance on precautionary practices including consistent masking, social distancing, and a healthy diet.
Moreover, people are advised to cooperate with the new directives issued by the GOI regarding the lockdown and curfew.
As for the containment measure, a total of 774 Tibetans are currently in quarantine out of which 500 are at home quarantine and the rest at the CTA facilitated centers. The routine sanitisation drive is being punctually implemented across the settlements.
Regarding the distribution of SORIG immune booster, around 5308 people in quarantine have received the SORIG medicines and around 8725 elderly have received immune booster medicines. Likewise, around 1525 frontline workers, Tibetan communities abroad, and people with comorbidities totaling 4040 have received SORIG immune booster. In total, the committee has distributed SORIG immune booster to a total of 22,452 people.
25 people with Covid received counseling from the administration's mental health helpline this week.
Data committee constituting of settlement emergency committee in coordination with district COVID-centre has tested over 1351 Tibetans in India and 23 Tibetans in Nepal.