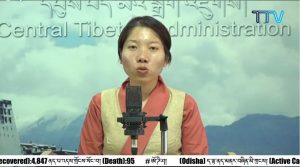 Dharamshala: Dr Tsering Tsamchoe, Dr Tenzin Namdon of Delek hospital and Health Department's Under Secretary Yangtso led the 19th press briefing of the CTA COVID-19 task force on Thursday.
According to the task force, 9 new cases were reported this week in Tibetan communities across India and Nepal, of which 4 cases are from Ladakh, 2 from Delhi and 3 from Mundgod.
With 12 active cases, 65 recoveries and 2 deaths, the total number of cases stand at 79.
Sharing further details, Dr Tsamchoe said 4 cases from Ladakh (26-year-old, 27-year-old and 28-year-old females and a male) had travel history, asymptomatic and are currently in quarantine. 28-year-old and 29-year-old females from Delhi are also asymptomatic, in quarantine and have been provided with SORIG immune boosters. Asymptomatic 30-year-old male, 19 year and 20-year-old females from Mundgod and being treated at the COVID-care centre.
Meanwhile, 502 Tibetans are currently in quarantine with 299 in-home quarantine and 203 in CTA community quarantine centres with 58 in Dharamsala. A total of 1668 people were screened in Gangchen Kishong region, none were detected with symptoms.
7,525 people have been covered through passive screening across 34 settlements in India and 2 in Nepal, of which 5,759 were of ages 60 and above, 1,766 vulnerable groups through the passive screening organised by CTA.
So far the SORIG immune boosters have been distributed to 14,373 Tibetans in quarantine, vulnerable groups, frontline volunteers and healthcare workers for free of cost.
As briefed earlier, the cost of the medicines is borne 70% by the Health Department and 30% by Men-Tsee-Khang.
The sanitisation drive is in full swing across settlements under the leadership of Settlement officer and settlement emergency committee.
District government provides swab testing facility for those in quarantine and those suspected of being positive. Last week, 23 in Dharamsala were tested of all of whom were not detected with symptoms. Till now, a total of 416 Tibetans have been tested in Dharamshala and 60 Tibetans in Nepal.
Tsoje hospital in Bylakuppe has led testing initiative along with settlement emergency committee to conduct the antigen test on 21 people who are suspected of infection, quarantine residents and travel history.
This week the Mental health committee has covered around 350 people in quarantine and those confirmed positive who have been provided necessary counselling and guidance.
Dr Tsamchoe shared some important information from the Tibetan medical perspective, the Tibetan term for coronavirus implies the disruption of the delicate system due to an imbalance of some form which results in sickness and contagion.
Similar to the symptoms of flu or the common cold, it is characterised by cough, fever, loss of taste, dry mouth, muscle ache, blockage in the respiratory system, diarrhoea and vomiting but it can not be uniform for all people.
She advised the public to seek medical help from both Tibetan and Western medical traditions located in the vicinity and most importantly, follow precautions thoroughly.
This followed a special briefing by Dr Namdon who shared COVID-guidance to the public.
As told by Dr Namdon, RTPC tests are the most credible of others available in the market. She said the coronavirus is detected from the genetic design of the virus through the throat and nasal swabs within 4-5 hours of the test. But for the tests to be valid, it should meet the criteria of standardised testing labs and test experts. It is more on the expensive side, costing about INR 4500-5000.
In Rapid Antigen test, the protein of the virus on the body's surface which is drawn from nasal and throat samples is tested with results revealed in an hour. In case of positive results, the treatment process will proceed, however, it is not seen as conclusive for negative results. Though the medical kits are cheaper compared to others, of the ones available in the Indian market, only 1 or 2 are approved by the Indian government and testing labs should conform to the standard.
Rapid antibody test any foreign microorganism will be resisted by the immune system through a chemical i.e., the antibody. It tests the count of antibody produced to resist the virus. Through blood tests, it determines past infections but not the current status, because the antibody takes time to generate. Results are revealed within 10 hours of testing and more affordable, around 600 INR. Most countries use the test to determine community transmission and to decide on the imposition of restrictions or relaxation in an area.
Under Secretary Yangtso of Health Department, provided guidance concerning public health. She said that as prevention is the most viable solution for the coronavirus, the Health education section of the department conducts regular dissemination of COVID health guidance through posters and awareness videos.
She emphasised the need for using facemasks properly, 1-metre physical distance and frequent handwash amidst the easing of lockdown rules.
Condemning the stigmatization of COVID patients and rumour-mongering on social media, she appealed the public to refrain from engaging in such behaviour that disrupts preventive measures. She also spoke about public health initiatives such as promoting dietary habits, Yoga and Zumba classes, a series of which were carried out across settlements benefitting members of all age groups. Chronic patients with different health conditions were advised to engage in physical activity even at home.