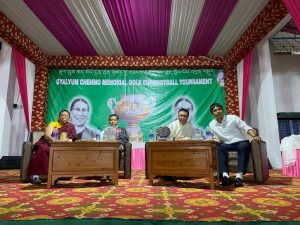 Dehradun: The 26th Gyalyum Chenmo Memorial (GCM) Gold Cup football tournament began in Dhondupling Tibetan settlement in Clement Town near Dehradun on Friday, 1 October. Ten Tibetan football teams from India and Nepal are participating in this year's tournament which will conclude on 12 October. The ten teams will play 27 matches for twelve days with each team having an opportunity to play at least four matches.
The tournament was inaugurated by Secretary Palden Dhondup from the Department of Health, Central Tibetan Administration. The guest of honour was Karma Chungdak, General Secretary of Tibetan Homes Foundation (THF) schools. Other dignitaries at the inaugural ceremony include Lama Phuntsok, General Secretary of Dhondupling settlement, and Tenzin Rinchen, Executive Director of Tibetan National Sports Association (TNSA).
In his inaugural remarks, Health Secretary Palden Dhondup spoke about TNSA and how TNSA came to be incorporated under the Department of Health. He also spoke about the importance of preventive measures and the emphasis placed on the prevention of diseases by the Health Department. "Many of our illnesses and health complications are caused by leading a sedentary lifestyle. Therefore, in the last several years, the health department has constructed football grounds, basketball courts, and open gyms in the Tibetan settlements to encourage an active lifestyle. The Tibetan public should use these facilities as much as possible," he said.
Speaking about the football tournament, he told the participants that winning and losing is a part of any tournament and urged them to control their emotions when faced with losses or victories for their teams.
Tenzin Rinchen, Executive Director of TNSA, introduced the fixtures, referees, and prize money of the tournament and explained the changes in rules and regulation as compared to earlier tournaments.
The inaugural match of the tournament was played between Dhondupling FC and Shimla FC.