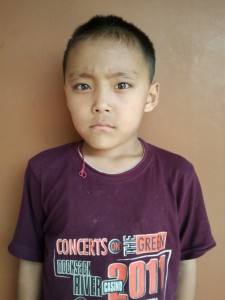 TENZIN CHOYANG
Diagnosis:
Hearing & Speech Impaired
Admission Date:
11/08/2010
Tenzin Choyang's parents got divorced and he is staying with his mother and grand mother. His mother is the only earning person in the family and running a small shop. His mother also has to look after her own aged mother. Tenzin Choyang has problems of hearing with great difficulty and he can not speak at all. He got admitted with great hope to get proper education for his bright future. Presently, he is attending a hearing impaired school.
Remarks:
Attending Bajaj institute of Learning for hearing impairment school.